Testimonials and Reviews can Increase Your Vending Sales
Emily / February 22, 2023
Testimonials and Reviews are akin to word-of-mouth marketing. And we all know how important word-of-mouth is to a vending business. Testimonials from happy vending customers are a top way to get new vending customers. And a nonpartial third-party review strongly impacts a decision maker's buying process. So, how do you make the most of a client's testimonial or review? And how do you get more?
Share Testimonials on Your Website
One of the first places a prospective client visits is your website. And because as many as 93% of buyers read reviews, displaying testimonials on your website is a must. Ask your long-term customers to send you a statement about their experiences with your company and services. Let them know that you plan to share it on your website. For even more impact, include a picture of your customer along with their statement. This helps show prospects that the testimonial is from a real person.
Don't be tempted to create testimonials on a client's behalf. Make sure every testimonial is authentic. Overly positive or promotional reviews will stand out. Savvy decision makers will see right through them.

Ask for Reviews on Social Media
A prospect who does research on your vending company will look on your website. But that's not all. They will look elsewhere online for feedback too. That's why reviews on your Google Business Listing and social media are also critical. An active Google Business Listing with lots of reviews will also gain a higher SEO.
Make it easy for clients to share their honest opinions by sending them a link to your Google Business Listing. Don't worry about imperfect reviews. It is a chance to engage a client and turn the situation around. Do not be tempted to pay for reviews or to reward customers for submitting them.  The feedback on your Google Business Listing should be organic and people should be inclined to leave them without incentives or rewards.
Video reviews are also becoming more and more popular. If you're visiting a customer who is raving about your service, ask to record them. Use your smartphone for a quick video review of the happy customer. Then post it to social media. It's a great way to spread the word about your stellar service.
Get Testimonials. Gain Leads.
Testimonials and reviews by a customer can impact future sales. Make sure your vending business is getting the leads it deserves by focusing on your testimonials and online reviews. If you want to grow your business through testimonials, reviews, and other digital marketing strategies, VendCentral can help. We offer various digital marketing plans created just for breakroom service providers. Call us at (866) 699-8363 or reach us online.
read more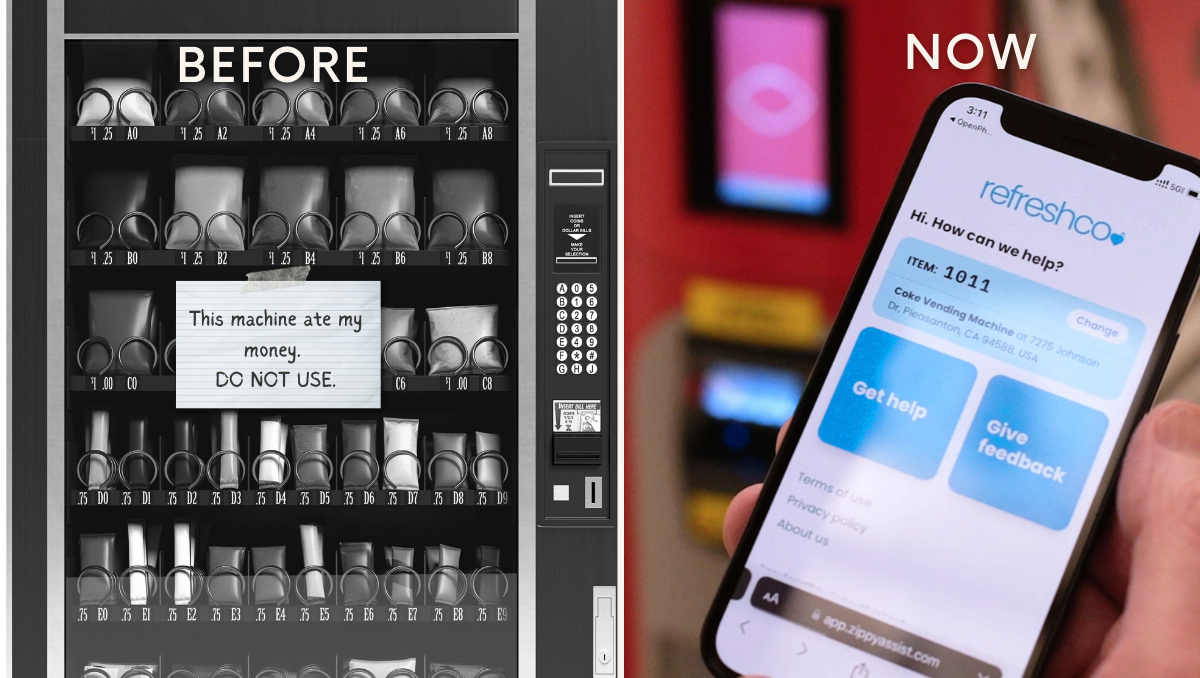 How to Use ZippyAssist to Increase Vending Sales
Emily / September 20, 2022
The customer-service platform ZippyAssist offers many operational advantages. These include instant customer feedback and a dashboard full of operational data. Check out our video overview here. But how do these drive sales? Read on for how ZippyAssist can increase sales at existing vending and even micro-market locations. Plus, how it helps you win new refreshment service bids.
Establish Trust
While consumers are more comfortable than ever with using vending machines, and unattended retail in general, there is still one major barrier – trust. Will the product get stuck? Who do I even go to for a refund? Did they restock today, or is my favorite chip slot still empty? These types of questions run through the mind of the consumer. Furthermore, they create doubt and limit the amount a consumer is willing to spend at your vending machine.
Thankfully, ZippyAssist inspires trust. How? By putting confidence back in the consumer's hands. Now, they can provide feedback and make their voice heard. They know there is someone on the receiving end who will refund their money or restock that empty coil. If help was easier to access, 38% of customers would use unattended retail more. Those are already your vending customers and now they say they will spend more. That's a huge win.
Ask for Feedback
Another useful feature of ZippyAssist is that it allows you to see individual customers. And you can use that to your advantage. Let's say a consumer reached out to you via ZippyAssist. You solved the problem quickly, and as a result, they gave you a great rating on the platform. This person is now an advocate for your company. Ask them to go on your Google Business Listing page and leave a review. Ask them to post about the experience on your company's Facebook page. Since facility managers and human resource professionals read reviews of potential service partners, this can be invaluable to your vending marketing.
Use ZippyAssist to Optimize Micro-Markets
While a micro-market doesn't have the potential for a stuck coil, there are still ZippyAssist benefits. One is to use consumer feedback to improve service and product selection. Racks with empty pegs or shelves empty of food at 9 a.m. can be reported by consumers. These are potential sales if products were there. Plus, it gives you direct access to the consumer, instead of hearing product requests through the facility manager or human resources department. Encourage this type of feedback to optimize the micro-market service and ultimately increase sales at that location.

Stand Out to New Business
When competing with other vending or micro-market providers, it can be difficult to stand out. The customer sees similar machines, the same product brands, etc. However, what if they saw one company providing peace of mind through a customer-experience platform? That would be a tipping point. ZippyAssist is a value proposition that can be the tipping point for breakroom service decision-makers so you win the RFP.
ZippyAssist is a Business-Driving Tool
The desire to use unattended retail, such as vending machines and micro-markets is there. Consumers are more willing than ever to spend money at your equipment, but only if they have faith in it. Give them that sense of security and positive customer experience. It will, in turn, boost your sales and keep you from losing customers. You'll even gain new ones thanks to your investment.
Talk to VendCentral about ZippyAssist today to really understand how it can benefit you. Reach out for a free consultation by email or phone at (866) 699-8363.
read more