VendCentral: A Company Built On Good Karma
aaron / September 20, 2017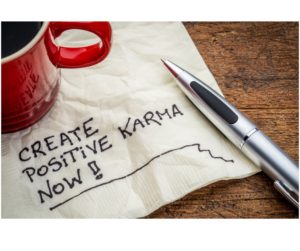 How Karmic Management Influences Our Business
At VendCentral, we believe in Karmic Management. If you've never heard of it, Karmic Management is the title of a book, but also a business philosophy based on the idea that good service leads to good karma. While it may sound more spiritual than business-like, it really is a universal concept that extends through our everyday life, from personal interactions to work ethics.
What goes around, comes around
At the core of our business philosophy is the idea that everyone prefers to deal with honest and ethical people. We recognize their humility and the good things they do for others. In business too, customers and stakeholders prefer to work with companies who are open and stand for something more than just making money. You can see this in your own business. When you provide excellent service and sell high quality products, you are doing good to others and receive good karma in return. This manifests in repeat customers and growing revenues. If you exceed expectations, you will receive good karma multiplied and attract more positive business associations.
Focused on purpose and people
Another part of our philosophy is having purpose. Live with purpose. Do business with purpose. This will help you be happier in life. Translated to business, this means having a company mission. Ours is to use computer and online marketing skills to help vending operators grow. We look at what we do as more than building websites or creating content. All our vending operator customers have employees. The better the vending operation does, the more secure those employees' jobs become. If that success can be partially attributed to our services of creating successful online webpages and marketing dedicated to driving up sales for each company, it means we are helping people in communities across the United States. Our service means good Karma.
While you can have both good service and strong purpose, it may not matter without a positive attitude. Outwardly, an optimistic attitude conveys your good intentions and shows the performance of good deeds. Internally, the attitude creates a culture of productivity and creativity, not to mention a great place to work with loyal employees who love their job.
Karmic Management is our goal at VendCentral. We build relationships with vending operators that focus on open and honest communication. We strive for great service, a strong purpose, and positive attitude that will attract good fortune and grow our customers' businesses. We believe it's the best way to live, and work.
read more
The Importance of LinkedIn In Growing Your Breakroom Refreshment Business
aaron / September 7, 2017
LinkedIn is by far the most powerful and arguably the most overlooked platform in the vending and office coffee industry.   It is an important network that allows you to build relationships, establish thought leadership, generate leads and gain insights, thus making it one of the most influential platforms in business to business networking.
Watch our video below for a quick tip on how you can use LinkedIn to grow your vending and office coffee business.
read more