Breakroom Service Providers Unite in Support of America's Workforce
aaron / June 26, 2020
Source: Cool Breakrooms
State by state, the gradual reopening of businesses has started. Many companies are beginning to take measured steps towards returning to work at the office. They are developing new procedures and accommodations to ensure employee safety amidst ongoing concerns about COVID-19. The decisions they make about the company breakroom will be an important part of their go-forward plan.
Last week, members of the refreshment services industry banded together to send a heartfelt and reassuring message to their customers throughout the nation. The message (shot in isolation from each person's home or business) is an inspiring 2-minute video led by VendCentral, a marketing company dedicated to the industry. The takeaway from this video is clear: breakroom service providers are here to support companies as they transition toward a safer working environment.
Breakroom service providers are each responding to their own state's COVID-19 re-opening schedules and guidelines. Moving forward, they are adopting even stricter health and safety measures than before. Delivery drivers are maintaining social distancing practices and are washing their hands or putting on a fresh pair of gloves before each visit. They are also sanitizing all contact surfaces and high touch areas at the end of every service call. The intent is to leave their clients' breakrooms cleaner than they find them. Additionally, providers have developed social distancing policies in their own offices and distribution centers and are closely monitoring their employees' health.
The company breakroom will be a valuable resource for employees in their new working environment. In fact, micro-markets and vending machines inherently provide a safer way for employees to access fresh foods, snacks, and beverages. Items offered in micro-markets and vending machines are individually wrapped in secure packaging for quick and easy "grab and go". Vending machines and micro-markets also provide cashless payment options, limiting contact even further. By providing employees with plenty of fresh foods, snacks, and beverages in the breakroom, companies are able to satisfy their employees on-site during the workday, limiting their potential exposure to viruses by reducing trips outside the office for food.
Companies are increasing the frequency of their breakroom cleaning and sanitation and many are reducing or eliminating their seating options for now. However, they are continuing to provide food and beverage services. They are recognizing it as both a convenience to their employees and an opportunity to limit outside influences on their controlled office environment.
For companies looking to increase breakroom services for their employees, there's help. Coolbreakrooms, a company dedicated to improving breakrooms across the nation, specializes in helping companies find trusted breakroom service providers in their hometown. For advice or assistance in modifying or upgrading your breakroom services, contact them at 866-699-8363 or info@coolbreakrooms.com.
read more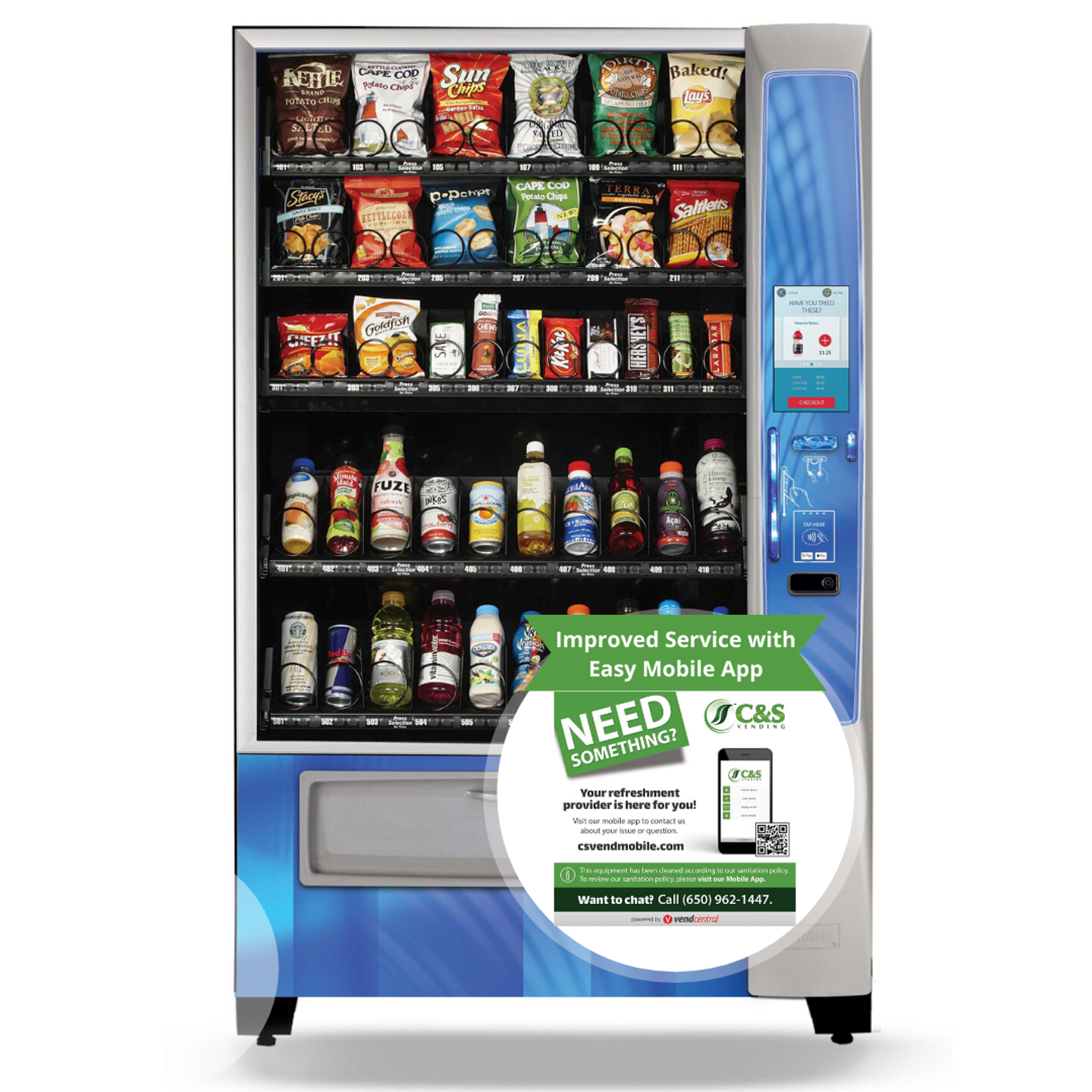 VendCentral's Mobile Vending App Eases Operations for Providers
aaron / June 26, 2020
Source: Vending MarketWatch
VendCentral's Mobile Request Platform improves communication between operators and customers.
VendCentral's Award-Winning Mobile Request Platform, specifically designed for the vending channel, has played an increased role in helping refreshment providers better serve their customers post COVID-19. The technology provides automated communication between customers and providers using a QR code and smartphone.
With the app, customers can directly access important COVID-19 information, report machine issues, request items, and more, all from the convenience of their own smartphone. QR codes are placed on vending equipment and include easy to follow instructions.
VendCentral's app eases the workload of facility and office managers, allowing them to focus on other tasks. In the new workplace environment, they are appreciating this streamlined, contactless form of communication more than ever. Providers are also seeing improvements. The app helps them process requests in a more organized and efficient way, resulting in better customer service.
VendCentral's Mobile Request Platform was previously awarded Product of the Year by Automatic Merchandiser and VendingMarketWatch.com. The company plans to continue to improve upon its exclusive technology and introduce a new version of the app in Fall 2020.
read more