Social Media Tips for Vending Businesses
Emily / October 12, 2022
Vending operators often ask us how social media can help their company. Our answer? Social media makes your vending business stand out from the competition and attracts quality leads. It lets you connect with customers and prospects in ways that influence their decisions. It is a powerful tool for increasing sales. Did you know that more than 50% of customers say they learn about new brands and products specifically from social media platforms? That means your vending business needs to be there.
Keep reading for tips on creating social media posts that engage your existing customers and make new prospects want to do business with your vending company.
Showcase Your Expertise
Social media is a great place to display your industry knowledge. Use it to inform your customers about new products and equipment. For example, post about the latest single-cup brewer you installed and the features you love about it. Don't forget to tag the manufacturer to get more exposure.
Another great way to show your expertise is by sharing the latest breakroom news and trends. It will show customers that your company stays on top of what is hot in the industry. Showcase your latest installs too.  Make sure to mention how your breakroom upgrades improve the workplace and tag any clients who give you permission.
Keep it Consistent
Posting regularly on social media is key to building a relationship with your audience. That is because frequent posts help grow your online reputation. They also increase trust in your brand. But don't worry. Social media posts don't have to be long. In fact, short to-the-point posts are best. Bite-sized content is easier to scan and retain.
In addition, it's a good idea to regularly ask questions or take polls in your social media posts. This will spark conversation. That means your audience will be better engaged. And, it will help you learn more about your audience too.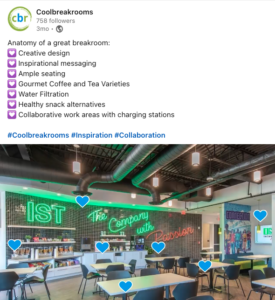 Include Visuals
Remember the saying: a picture is worth a thousand words? Well, it's true. Great visuals attract attention. But it's not just photos. You can use infographics and video content too. A statistic from Twitter Business puts it in perspective, Tweets with video get 10 times more engagement than those without. The takeaway? Add visuals to ensure greater impact.
Make it Genuine
When you post on social media, an authentic and honest approach works best. Why? Because 86% of Americans want transparency from a company, says SproutSocial. That means you should show the human element in your business whenever possible. Plus, be open, honest, and clear in your posts. It will help you develop a stronger connection with your vending customers.
Need more reason to be real? LinkedIn posts with personal images get two times higher engagement. So, get personal to ensure your posts are read and remembered.
Now that you know when and what to post, it's time to boost engagement. Invite your clients and industry colleagues to follow your business. And do the same to theirs. The larger your audience, the more powerful your social media will be at attracting new customers and maintaining current ones.
If thinking about social media posts makes you feel stressed, you're not alone. The good news is that there are digital marketing specialists just for the vending industry. That's us. Reach out to VendCentral for help today.
read more