Investigate And Be Bold To Beat Your Competitors
aaron / August 23, 2017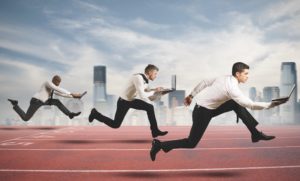 Remember the proverb "keep your friends close and your enemies closer?" This is even more true online. Search vending or office coffee service with your city and who comes up? These are your competitors. Analyze their websites and social media feeds. Create Google Alerts that notify you when they are mentioned online. Armed with this information, you are better able to create a digital marketing strategy that will keep your SEO ranking above theirs and become the name customers know and trust for workplace refreshment solutions.
Widen your search
While vending and office coffee operators are your main competitors, they aren't the only ones. Convenience stores, fast or quick serve restaurants, even grocery stores are all vying for the daytime quick-meal business. Check out what contests, promotions, and give-aways they are offering. How active is their social media channel? Can you imitate any of their marketing ideas and benefit from being even more conveniently located in the workplace?
Design a digital marketing plan to rival their efforts and then go beyond. Add more content to your site. Get longtime customers to write you positive reviews on Yelp or that can be displayed on your website. Create YouTube videos and articles that feature you as the knowledge expert on vending, micro markets, and office coffee service in your area. Respond on social media to comments, post news, snap pictures of charitable events, recognize employees, and offer customer incentives.
Keep an eye on your competitors and then beat them at their own game to stay front and center to potential customers.
Contact us for your digital marketing needs!
866- 699-8363
marketing@vendcentral.com
www.vendcentral.com
read more